Comfrey Herb 12cm
Comfrey Herb 12cm
Check home delivery availability
Please enter your email address below to be notified when an item is back in stock.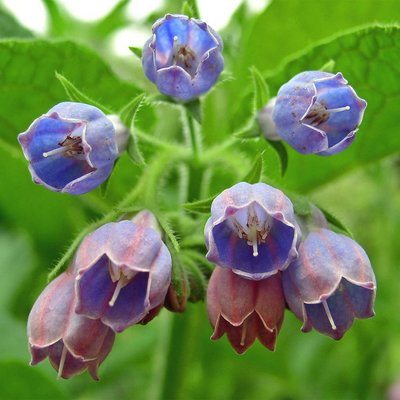 (Symphytum officinale)
Please note that this plant will be in the process of dying back for winter, but will reshoot in the spring.

Height/spread: 1m (3ft)
Flowers: Purple, sometimes also in shades of pink and white
Sun/shade: Will grow in sun or partial shade
Soil: Prefers a moist soil but will tolerate most types
Maintenance: Deadhead regularly and keep soil moist in summer. Dies back in the winter.
Harvesting: Cut leaves regularly in early summer through to autumn. Can be cut 3 to 4 times a year if well fed and watered.
Cooking/garden uses: Comfrey makes excellent liquid manure feed. It is also an excellent composting plant that helps to breakdown other materials when added to the heap.
Please Note: This perennial herb dies back during the winter months to re shoot in the spring. During this dormant period there is little top growth visible.
'Please note this plant is herbaceous. It will die back in the winter months to reshoot in the spring'

Barcode

2000001125922

SKU code

75165

Manufacturer Code

GRO644

Herb Type

Unusual Herbs

Plant Type

Herb