Flopro Hose Connection Set
Flopro Hose Connection Set
Check home delivery availability
Please enter your email address below to be notified when an item is back in stock.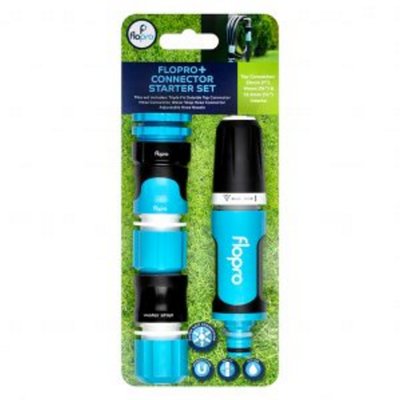 Flopro Hose Connection Set
Description
Use with a hose, the Flopro+ Hose Connector Starter Set is everything you need to start watering. The set includes all the connectors required to water. The water-stop connector prevents leaks when changing attachments. It also includes a robust variable spray nozzle. The connectors have an extended clench mechanism that ensures permanent hose connection, so this set gives high-quality performance that will last for years. This set includes Flopro+Triple Fit Outside Tap Connector 1? 33.3mm BSP (G1), 3/4? 26.5mm BSP (G3/4), and 1/2? 21mm BSP (G1/2 inserts) Hose Connector Water Stop Hose Connector Adjustable Hose Nozzle
You can find Flopro Hose Connection Set online at Groves Nurseries or visit our garden centre in Bridport, Dorset. We're conveniently located in Bridport near Dorchester, Weymouth, and Yeovil in Dorset. You can buy Flopro Hose Connection Set online or visit our garden centre.