Grape Vine Chasselas Rose Royal Dessert
Grape Vine Chasselas Rose Royal Dessert
Check home delivery availability
Groves Nurseries & Garden Centre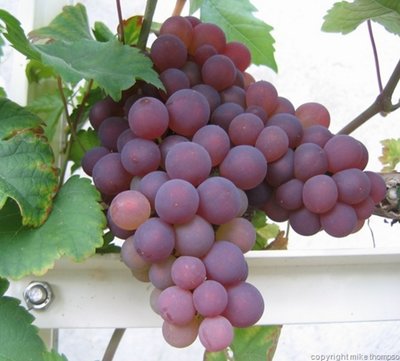 Grape Vine Chasselas Rose Royal Dessert
General Grape Growing Information
Choice of Grape
There are two main things to consider when buying grapes. Whether you want to use them for eating i.e a Indoor grapes want to be in a structure such as a greenhouse or unheated conservatory. They can also be planted outside in the ground with the trunk and stems trained inside. Vines that are grown in this way rarely need extra watering and are easy to feed and manage.

Outdoor grapes are best grown outdoors, in a warm, sheltered, sunny site, such as a south- or southwest-facing wall, fence or along wires. Grapevines grow on most soil types, providing it is well drained. When planting a row of vines, a south-facing slope is desirable with the rows running north to south. Avoid frost pockets - frosts can damage young shoots.
Planting Grape Vines
Read our Instructions Read more Feeding Vines
If in the ground, vines don't need feeding as such, but benefit from a mulch each Spring with Growing Vines in Containers
Vines can be grown in containers, but they are easier in the ground.

They need to be in very big containers and may need to be watered daily in dry summers and fed fortnightly with a high potash feed (such as food) in the late Spring / Summer.
Plant in number 2 and added grit. Vines do not like to have warm/hot roots, so the pot should preferably be placed where the roots are in shade and the top is in sun. Also avoid planting in black, plastic pots as they get very warm.

Fruiting Quantities
Their main fruiting time in the UK is September - October. Both the timing and quantity of fruit are highly dependant on the variety of grape as well as weather conditions when the flowers are being pollinated (generally June) and setting fruit (from June onwards). The more sheltered/sunny position you can provide, the better chance you have of them setting fruit. They generally start to set a 'usable' amount of fruit from their 3rd year of being planted. A general rule for fruiting is: Remove all flowers for the first two years after planting. Allow three bunches of grapes on three-year-old vines and about five on a four-year-old vine – slightly more if growing well. Allow full cropping thereafter
Harvesting
Grapes are ready for picking when they feel soft to the touch and taste sugary. The skins on white grapes often change from deep green to a translucent yellow and become much thinner. The best way to tell when grapes are mature is by tasting them – only when they're at their sweetest, will they be ready.Cut them in bunches with the stalk still attached. Dessert grapes are best eaten as soon as possible after harvesting, but they will keep for about two weeks if stored in the fridge. Although wine grapes can be eaten fresh, they are better when pulped and made into wine.

We recommend planting with Rootgrow friendly fungi. We also recommend planting with Bonemeal (see related product below)
We also recommend dusting 3-4 times the first season against powdery mildew. Use Vitax Sulphur Puffer (see related product below)
Grape vine planting instructions will be provided.
Barcode

5060019878286

SKU code

180258

Manufacturer Code

GRO1238

Colour

Red Grape

Grapevines

Dessert

Plant Type

Fruit

Soft Fruit

Grapevines