Kings Salad Leaf Mustard Red Frills Seeds
Kings Salad Leaf Mustard Red Frills Seeds
Check home delivery availability
Please enter your email address below to be notified when an item is back in stock.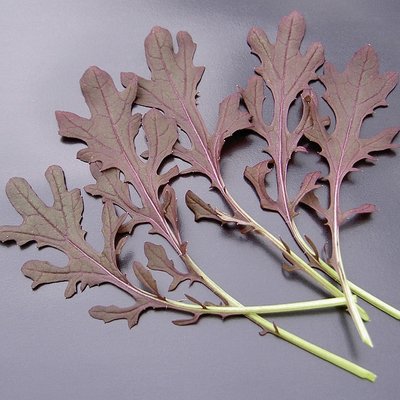 Kings Salad Leaf Mustard Red Frills Seeds
Description
Mustard Red Frills seeds produces superb deep red and green shoots with a mild fiery mustard flavour that is easy to grow and fast growing. When to Sow: All the year round. Where to Sow: Sow thinly in a prepared seed bed 0.5cm (1/4in) deep in rows 25-30cm (10-12in) apart. Keep soil moist. Sow seed in succession every 2-3 weeks for a continuous supply of fresh young leaves. What to do next: Thin seedlings to 10cm (4in) apart when large enough to handle. Cut leaves from each plant leaving some leaves on each so they re-grow. You will often get 3-4 cuttings per plant. Harvest: All year round. Handy Tip: Early and late sowings can be made in containers in a cold glasshouse. Or if short of space during the year, sow seeds thinly into containers on a sunny patio. Nutritional Values: High in Vitamin C, Potassium, Fibre, Folic Acid, Calcium and Iron.
Specifications
SKU

325875

Manufacturer Code

85282A

Brand
You can find Kings Salad Leaf Mustard Red Frills Seeds online at Groves Nurseries or visit our garden centre in Bridport, Dorset. We're conveniently located in Bridport near Dorchester, Weymouth, and Yeovil in Dorset. You can buy Kings Salad Leaf Mustard Red Frills Seeds online or visit our garden centre.