Lemon Verbena Herbal Tea Herb 12cm
Lemon Verbena Herbal Tea Herb 12cm
Check home delivery availability
Please enter your email address below to be notified when an item is back in stock.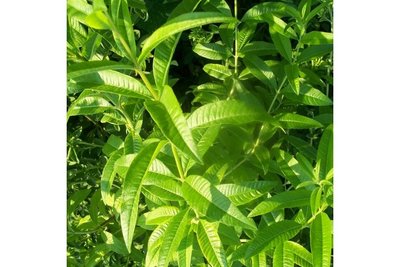 Lemon Verbena Herbal Tea Herb 12cm
(Aloysia triphylla)
Please note that this plant will be in the process of dropping it's leaves for winter, and will start to reshoot it's new leaves in late spring.
Height/spread: 1m or more if left un-pruned. Much smaller if pot grown.
Flowers: Tiny white flowers in early summer.
Sun/shade: Requires a sunny, sheltered spot. Not fully frost hardy.
Maintenance: Mulch well and protect from cold winter winds. Lemon verbena will drop their leaves in the autumn. Be patient in the spring as the leaves return late. Prune when new growth appears in the spring.
Soil: Needs a well drained soil. Lemon verbena will not tolerate a cold, wet soil. Can also be successfully container grown.
Harvesting: Pick leaves as needed. Dry quickly and store for a winter supply. Flowers are also edible.
Cooking uses: Lemon verbena makes the best lemon tea. The dried leaves are also lovely in pot pouriis and herb pillows. Also great for flavouring oils and vinegars.
Barcode

2000001158159

SKU code

75272

Manufacturer Code

GRO729

Conditions

Sun / Partial Shade

Plant Type

Herb

Use With

Teas and Drinks