Neudorff WeedFree Plus Weedkiller
Neudorff WeedFree Plus Weedkiller
Check home delivery availability
Please enter your email address below to be notified when an item is back in stock.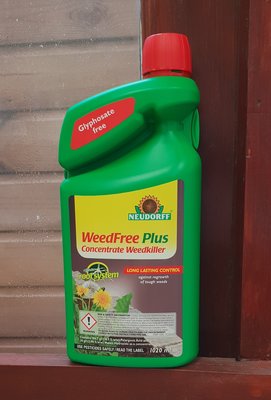 Neudorff WeedFree Plus Weedkiller
Keep your allotment and garden free of weeds with the Neudorff WeedFree Plus Weedkiller. Providing long lasting effect against the regrowth of tough weeds, this concentrated weed killer works right down to the roots of problematic weeds such as goutweed, field horsetail, mosses, and algae, creating visible results after only one day of treatment. This biodegradable weed killer offers low toxicity to bees, creating an environmentally friendly way to eliminate harmful weeds. Works with: Weeds and unwanted vegetation. Contents: 186.7g/L pelargonic acid. 30g/L Maleic hydrazide. Application: Mix 85ml with 500ml water for 5m². Drench the weed thoroughly to guarantee an optimum absorption of the active ingredients. Coverage: 1 litre of concentrate is sufficient for up to 60m². Pack Size: 1020ml.
SKU code

367822

Manufacturer Code

596254

Brand