Say it with Flowers
Say it with Roses
Make your true love's day with a Valentine's Day rose bush delivered straight to them. Shop our range of beautiful red roses online or come into the store and see our fantastic selection. We pot up over 6000 roses every year here in our nursery. Our roses are top quality whether buying them from our website or buying them in store. Give the gift that keeps on growing this Valentines Day.
Rose of The Year for 2015. Single pink blooms of pink/apricot/salmon with a distinctive dark central eye. The blooms start out soft fuchsia pink which soon pales with a mixture of undertones of softer pink and apricot. Very free flowering, compact growth ideal for containers. Shiny disease resistant foliage.
An attractive new patio rose with heart shaped red blooms throughout the season. Flowering from late spring until the first frosts, this fabulous little rose produces an amazing amount of eye catching blooms. It is a patio rose so is great in pots.
This stunning repeat flowering rose has large, loose, striking orange blooms with streaks of cream and white. Matt dark green foliage. A fabulous name for a cheeky valentines gift!
Celebrate your love! This unusual rose has ruffled purple flowers that are splashed with mauve and have a silver underside. It is scented and is also repeat flowering.
Masses of cherry red blooms are produced throughout the summer on this extremely healthy, compact plant. Winning rose of the year in 2018 this rose is a perfect addition to any garden.
Is your loved one Absolutely Fabulous? Large clusters of repeat flowering, butter yellow blooms with an unusual myrrh scent. This Award winning rose is very healthy and free flowering. Great for your flower borders or in a large pot.
We stock over 140 varieties of roses so this is just a small number of what we stock, feel free to browse our website, give us a ring or come into the centre to see our fantastic rose display.
We grow all of our roses on site in 4L rose pots and they are priced from £14.99. We have a gift wrapping service as well as a delivery service – just give us a call, email or check out our website for more details.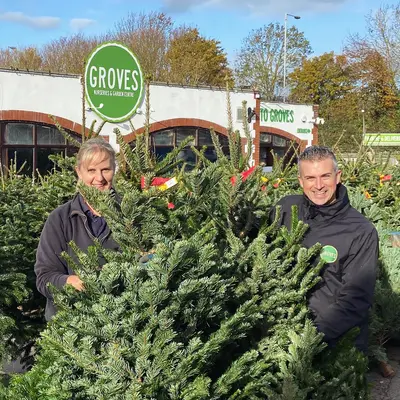 We're here to guide you through the art of choosing the ultimate Christmas tree.
More
Join us in our heated marquee next to Ivy House Kitchen from Saturday 25th November until 17th December for our Festive Mini Market.
More