Ooni Grizzler Pan
Ooni Grizzler Pan
Check home delivery availability
Short description
Say hello to the Grizzler! This pan brings together the versatility of our Sizzler pan with the distinctive grill marks of a griddle pan.
Please enter your email address below to be notified when an item is back in stock.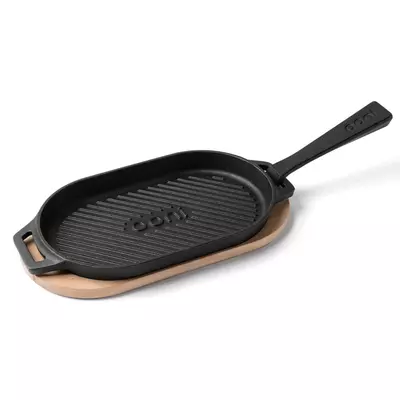 The meat and veggies seared on the Grizzler are out of this world! A removable handle and wooden serving board are included for convenience and ease of use.
Care instructions: Hand wash when cool. Store in a dry environment. Never store wet.
Grizzler Pan size (inner): 256 x 150 x 23mm (10.1 x 5.9 x 1.0″)
Grizzler Pan size (outer): 310 x 159 x 27mm (12.2 x 6.3 x 1.1″)
Weight: 2.5 kg
Materials: Cast Iron / Wooden Base
Suitable for use on induction hobs
SKU code

371346

Manufacturer Code

UU-P08C00

Brand

Accessory Type

Cookware

Furniture Type

Accessories
Ooni began with a quest for authentic pizza — the type with flame-cooked toppings and a leopard-spotted crust. We've been empowering people with the knowledge and tools they need to make awesome pizza at home since 2012.
These days, we're all about nurturing the deep-rooted, undeniable love of pizza inside all of us. We want to make great pizza possible for everyone, anytime and anywhere hunger strikes.
Make it for yourself; make it for your friends; make it for the kids; make it for a crowd. It's just so good.
Click here for more Ooni Pizza Ovens products