Ooni Pizza Peel 12"
Ooni Pizza Peel 12"
Check home delivery availability
Short description
Get your pizzas in and out of your Ooni pizza oven with ease!
Please enter your email address below to be notified when an item is back in stock.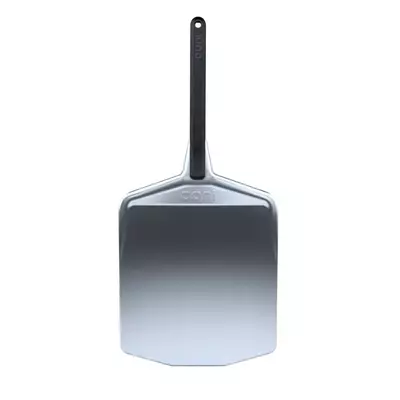 Description
The super-smooth and lightweight Ooni 12" Pizza Peel makes sliding your pizza into your Ooni pizza oven an absolute breeze. The completely even, level surface makes this peel all-purpose - prep, slide, turn and retrieve like a pro.
Do not leave the peel exposed to high temperatures for extended periods of time.
Do not use this utensil for storage and processing of acidic, alkaline or salty food.
Avoid abrasive cleaning materials.
Hand wash only.
Not dishwasher safe.
Store indoors.
Blade - Lightweight Aluminium
Handle - Heat Resistant Glass Reinforced Nylon
Dimensions: 30.5 x 66 x 3.5cm (12 x 26 x 1.4″)
Weight: 0.53kg (1.19lbs)
Specifications
SKU

371333

Manufacturer Code

UU-P0A400

Brand

Accessory Type

Utensils

Furniture Type

Accessories
About Ooni Pizza Ovens
Ooni began with a quest for authentic pizza — the type with flame-cooked toppings and a leopard-spotted crust. We've been empowering people with the knowledge and tools they need to make awesome pizza at home since 2012.
These days, we're all about nurturing the deep-rooted, undeniable love of pizza inside all of us. We want to make great pizza possible for everyone, anytime and anywhere hunger strikes.
Make it for yourself; make it for your friends; make it for the kids; make it for a crowd. It's just so good.
This text goes below the product
Click here for more Ooni Pizza Ovens products
You can find Ooni Pizza Peel 12" online at Groves Nurseries or visit our garden centre in Bridport, Dorset. We're conveniently located in Bridport near Dorchester, Weymouth, and Yeovil in Dorset. You can buy Ooni Pizza Peel 12" online or visit our garden centre.