Ooni Premium Hardwood Pellets 10kg
Ooni Premium Hardwood Pellets 10kg
Check home delivery availability
Short description
The perfect natural fuel for your Ooni pizza oven or pellet grill. They light easily, burn efficiently and produce minimal ash waste to enable a long, clean burn.
Please enter your email address below to be notified when an item is back in stock.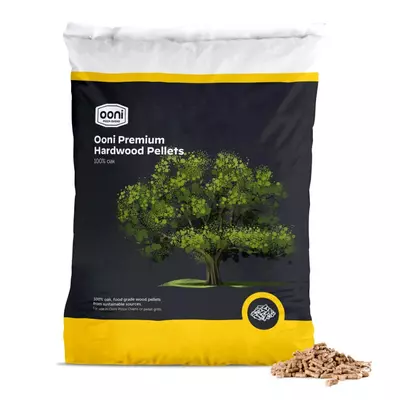 Ooni Premium Hardwood Pellets 10kg
Description
Our pellets are PEFC Certified to ensure they are sustainably produced, and are manufactured to ENplus® standards. Available in oak and beech. Beech and oak are both very similar types of wood to use for your pizza oven. Rest assured you will get a similar experience cooking with either as both are 100% hardwood. Our pellets are food safe and suitable to use only in our pellet-fueled ovens (Ooni Fyra 12 & Ooni 3). One bag of pellets will last for a good 2-3 hours of continuous cooking. And you can get the first pizza done with just 300g of pellets.
The pellets are 'food safe' and suitable to use in pellet-fueled Ooni pizza ovens (Ooni Fyra 12 & Ooni 3), as well as other pellet grills and barbecues. Please store your pellets in a warm, dry place (and not a garden shed). The pellets absorb moisture from the air and this can affect their performance.
Specifications
SKU

371343

Manufacturer Code

UU=P12100

Brand

Furniture Type

Accessories
About Ooni Pizza Ovens
Ooni began with a quest for authentic pizza — the type with flame-cooked toppings and a leopard-spotted crust. We've been empowering people with the knowledge and tools they need to make awesome pizza at home since 2012.
These days, we're all about nurturing the deep-rooted, undeniable love of pizza inside all of us. We want to make great pizza possible for everyone, anytime and anywhere hunger strikes.
Make it for yourself; make it for your friends; make it for the kids; make it for a crowd. It's just so good.
This text goes below the product
Click here for more Ooni Pizza Ovens products
You can find Ooni Premium Hardwood Pellets 10kg online at Groves Nurseries or visit our garden centre in Bridport, Dorset. We're conveniently located in Bridport near Dorchester, Weymouth, and Yeovil in Dorset. You can buy Ooni Premium Hardwood Pellets 10kg online or visit our garden centre.