Purple Sage Herb 1L
Purple Sage Herb 1L
Check home delivery availability
Please enter your email address below to be notified when an item is back in stock.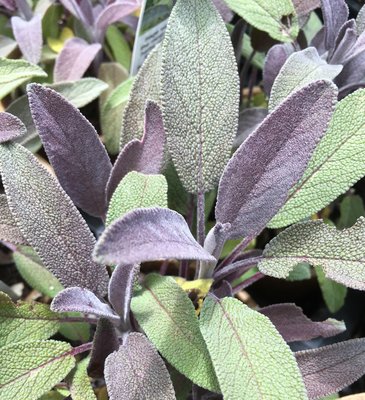 Description
(Salvia officinalis 'Purpurascens')
This sage is similar to the Green Sage, with the added bonus of having attractive purple leaves which look great in the garden as well as on your plate!
Height/spread: 70cm x 70cm
Flowers: Mauve – blue flowers in summer
Sun/shade: Warm and sunny position
Soil: Very well drained (add grit to be sure) and acid free.
Maintenance: Sage is hardy, but may be lost if it's too wet/overwatered. Clip back in spring to prevent it going woody.
Harvesting: This is an evergreen plant, so leaves can be picked all year.
Cooking uses: Leaves are great to use with red meats and poultry, especially in roasts and stews. Also great to use for stuffing's. Immerse sage leave in hot water quickly before cooking, to bring the oils to the surface. Sage is known to have antiseptic qualities and is also said to be a good decongestant for colds
Specifications
Barcode

2000001130872

SKU

75299

Manufacturer Code

GRO756

Conditions

Sun / Partial Shade

Herb Type

Sages

Plant Type

Herb

Use With

Red Meat
You can find Purple Sage Herb 1L online at Groves Nurseries or visit our garden centre in Bridport, Dorset. We're conveniently located in Bridport near Dorchester, Weymouth, and Yeovil in Dorset. You can buy Purple Sage Herb 1L online or visit our garden centre.