Resolva 24h Ready To Use Power Pump 5L
Resolva 24h Ready To Use Power Pump 5L
Check home delivery availability
Please enter your email address below to be notified when an item is back in stock.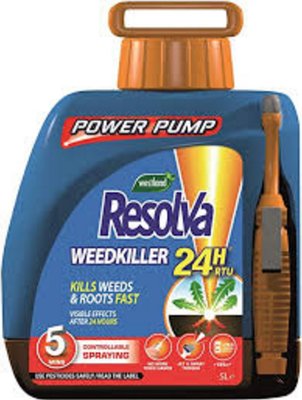 Resolva 24h Ready To Use Power Pump 5L
This Resolva ready to use formulation provides you with visible results after 24 hours. Kills both the visible weed and its root system of annual and deep-rooted perennial garden weeds including grasses, docks, nettles, dandelions, bindweed and many more. This formula is broken down naturally in soil leaving no residue. This products adjustable spray or jet trigger head feature allows for wide large area or targeted application. For storage-replace the wand in its holder, with the trigger pointing upwards; ensure the pump handle is pushed down and locked; turn the cap anti-clockwise to release the pressure and then retighten before storage.
Barcode

5023377008597

SKU code

353611

Manufacturer Code

20300470

Brand

Control Type

Weed Control