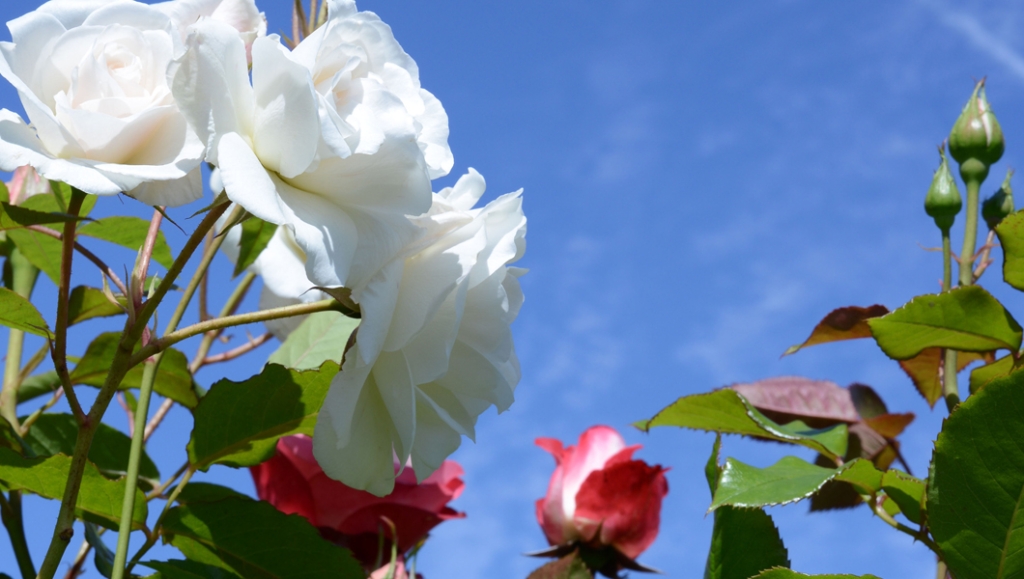 Cover those fences and walls with roses
Most gardens have a fence or wall, which is often dull or an eyesore but could be transformed into a stunning feature with a rambling or climbing rose. So just how do you turn your ugly feature into a thing of beauty? Pick the right rose for your position.
Rambler or Climber?
Ramblers are more vigorous and better for large areas, they tend to flower only once and usually produce clusters of smaller flowers. A rambler would be perfect if you had a large outbuilding you wanted to hide but choose carefully as some ramblers will clothe a large tree and grow to 25ft + but would be far too strong for a fence for instance potentially causing damage. Although they flower only once many varieties produce beautiful hips in the autumn and ramblers can be used as support for other climbers, such as many varieties of Clematis Viticella to add extra interest.
Climbers are less vigorous growing between 8ft – 18ft and are more compact and pleasingly produce larger flowers and usually flower all summer long. They are ideal for hiding a fence or covering a garden shed. They are also ideal for growing on pillars, pergolas, arches and obelisks.
In terms of choosing for flower form, colour and scent, selection is very much a matter of personal taste but you will be able to find ones suitable for shady or north facing walls as well as sunny spots.
Both climbers and ramblers will need support. Attach horizontal straining wires using vine eyes that can either be hammered into a all or screwed into a wooden fence. The rose will need to be tied in at regular intervals.
Planting
Water the rose thoroughly while it's still in its pot or dunk a bare root one in a bucket of water for 20-30 minutes
Pick your spot in the garden and make sure it's clear of weeds
Dig a hole that will take the roses root mass easily.
Use a fork to loosen the soil at the base of the hole so roots can grow away easily
Add manure to the hole or a product like Camelot Manure Compost.
Sprinkle Rootgrow in the hole as per the manufacturer's instructions, this aids root development and leads to a healthier plant
Position your rose in the hole so that it's just slightly lower than the surrounding ground surface
Backfill with the soil taken out to dig the hole
Firm in by gently standing on the soil to ensure the rose is secure and that there are no air pockets.
Water well.
Aftercare
Water well when you plant a new rose until it is established, probably the first two years. Once established you will need to water still to promote a healthy plant that will flower over a long period. The amount depends upon rainfall and heat. Once a week should be sufficient but if flowers wilt in extreme heat then they need a good soaking at the roots more frequently.
Pay special attention to climbers planted against a wall, roses in pots or in sandy soil with both watering and feeding.
Feed your roses with something like After Plant Rose Food twice a year, once in March/April at the start of the growing season and then again in late July after the first blooms to encourage stronger repeat flowering.
Mulch with bark chippings in early spring to suppress weeds and increase water retention
Spray to control pests and disease with RoseClear
Deadhead throughout the growing season to encourage repeat flowering and keep the rose in good shape.
Pruning
Prune back in the first winter after planting. Do this in late winter or early spring, first remove dead, damaged and weak growths then prune remaining strong stems back to 30-40cm (1ft-15in) from ground level if not already pruned at the nursery (climbing sports of bush varieties may revert to bush type if pruned back hard). For further information on pruning read our rose pruning guide.