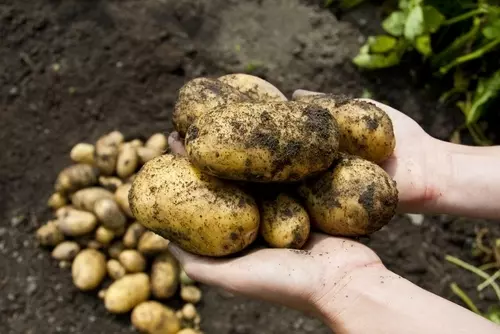 Explaining seed potatoes
Explaining seed potatoes
Growing your own potatoes is very rewarding, and they're great fun for kids to harvest. And by choosing the right varieties, you can harvest potatoes from early summer well into autumn. Here's our guide to the different types of seed potato. We sell all of our seed potatoes loose so you can try just a few if you wish, perfect for finding your favourite variety.
Of course Cyril is always on hand to give advice through years of growing seed potatoes himself!
Types of seed potato
Potatoes are grown from seed potatoes, which are tubers from the previous year's harvest. You can grow potato plants from supermarket-bought potatoes. Still, you're likely to get a better crop from commercially produced seed potatoes which have been specially selected for their performance and certified virus-free. Seed potatoes are available to buy from early spring and are categorised as first early, second early or maincrop depending on when they are harvested.
First early potatoes
First early potatoes are planted in early spring and are the first potatoes to be harvested in early summer. Also known as 'new' potatoes, the tubers are generally small, with thin skins, firm waxy flesh and a sweet flavour. First earlies are best eaten straight after harvesting. They're ideal for growing in a large container.
Popular first early potatoes:
Potato 'Duke of York' AGM – a heritage variety with golden skins and yellow flesh.
Potato' Homeguard – early harvests of potatoes with firm white tasty flesh, delicious steamed or boiled. It stores well, unlike many first earlies.
Potato 'Pentland Javelin' AGM – good crops of long oval tubers with white flesh, ideal for mashing or boiling.
Second early potatoes
Second early potatoes are planted a few weeks later than the first earlies and are harvested in early to mid-summer. They are ideal for those of us gardeners who are never quite organised enough in early spring to plant first earlies! Second earlies are usually good salad potatoes, with waxy flesh that stays firm after cooking. Some can also be used for baking, roasting or frying.
Popular second early potatoes:
Potato 'Charlotte' AGM – long tubers with firm, creamy yellow flesh and excellent flavour.
Potato' Marfona' AGM – big harvests of tubers, perfect for roasting, mashing or boiling.
Potato 'Kestrel' AGM – a high-yielding, disease-resistant variety ideal for boiling or sautéing.
Maincrop potatoes
Maincrop potatoes are planted in mid-spring. They take longer to mature than first and second earlies and are usually bigger. Maincrop potatoes are ready for harvest in late summer and early autumn and have a wide range of uses in the kitchen, including baking, roasting and frying.
Popular maincrop potatoes:
Potato 'Maris Piper' AGM – one of the best-known varieties, producing well-shaped tubers ideal for mashing, baking and chipping.
Potato 'Desiree' AGM – red-skinned tubers with creamy white flesh. A remarkably drought-resistant variety that's well suited to mashing.
Potato 'King Edward' AGM – very popular and one of the last to harvest, making it ideal for Christmas dinners.
Fancy growing your own potatoes this year? Visit our centre to see our fantastic range of seed potatoes. We also stock a wide selection of other vegetable seeds and plants to get your garden year off to a great start!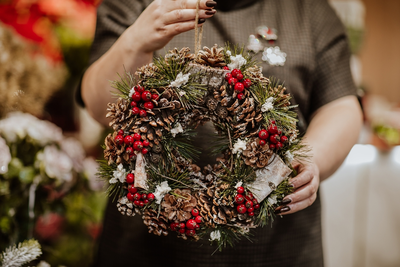 The holiday season is upon us, and there's no better way to infuse your home with festive cheer than crafting your Christmas wreath.
More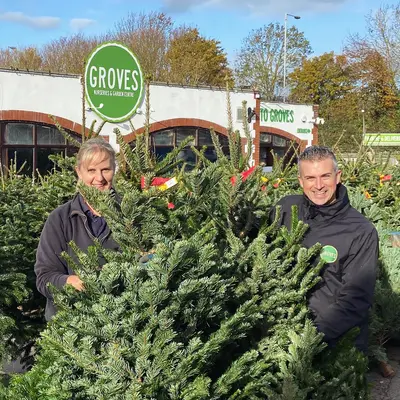 We're here to guide you through the art of choosing the ultimate Christmas tree.
More