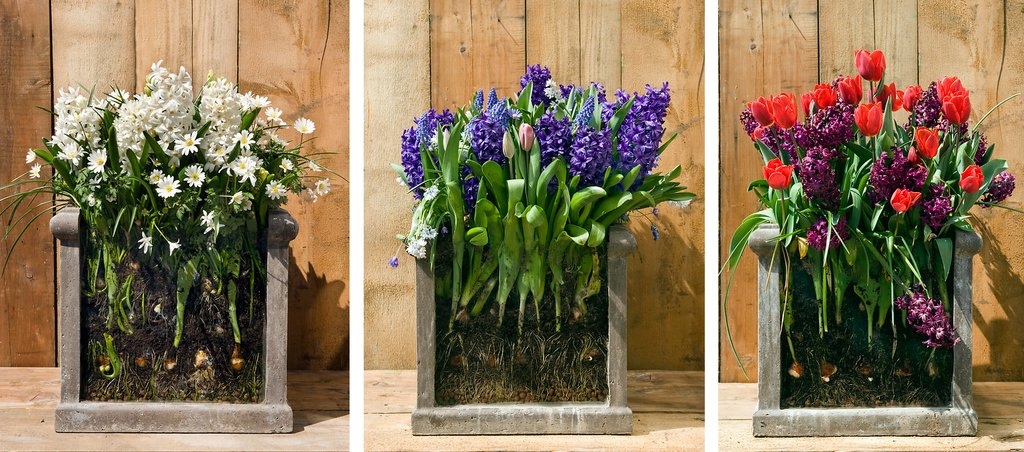 Layered Bulb Planting
Many bulbs are suitable for growing in containers, creating lovely displays perfect for patios, balconies and next to your door. The secret to a great display is to layer the bulbs in the pot or container, choosing species which will flower a few weeks after one another to create a long-lasting display.
There are endless possibilities for container colour schemes, including pastels, all-white containers or ones to match the rest of your garden. We have lots of ideas and suggestions for themes in store. If you get stuck just ask Cyril!
1. When choosing a pot or container, take care to check that it is sufficiently wide and deed, at least 25cm (10") for two layers of bulbs and 35cm (14") for three layers. Line the bottom of the pot with crock of gravel, to assist with drainage.
2. Next, put a layer of compost in the bottom of the pot. We suggest Groves Multi-Purpose.
3. The first layer of bulbs should be those that flowers last. In the case of this example, tulips. If you are using a round pot or container, it is best to use an odd number of bulbs, as this will give a better display
4. Completely cover this first layer of bulbs with more compost, then add your second layer of bulbs. This layer should flower after those in the top layer, daffodils (Narcissus) in example. Cover completely with compost
5. Now for the final layer, dwarf bulbs such as crocus. Cover this layer of bulbs with a good layer of compost and water in well
6. To finish the pot off nicely try topping the pot with an inch thick layer of gravel or decorative stones to match your colour scheme
Care:
Water when needed according to growing conditions and weather. When the bulbs have finished flowering, feed with a liquid feed, ensuring the bulbs are good for next year. Do not disturb the pot until the leaves have died naturally, the bulbs can then be planted out in the garden for next year or left in the pot to flower again