Groves Festive Mini Market
Groves Festive Mini Market
At Groves we know there are loads of local talented crafts people, artists and small retailers looking to get their wares in front of hundreds of people this Christmas, so we have set up our very own festive Mini Market.
Housed in our fabulously festive marquee, joined directly onto Ivy House we are looking for a selection of traders who would like to hire out space in the run up to Christmas.
Five handpicked traders at a time will be able to sell their products within our marquee in either one day or three-day blocks.
Choose from the following dates…
25th, 26th, 27th November
28th 29th 30 November *SOLD OUT*
3rd, 4th, 5th December *3rd SOLD OUT*
6th, 7th, 8th December *SOLD OUT*
10th, 11th, 12th December *10th SOLD OUT*
13th, 14th 15th December
17th, 18th, 19th December *ONLY 17th AVAILABLE*
20th, 21st, 22nd December
Each day will run from 10am until 4pm (10am until 3pm Thursday & Sunday)
£75 for a single day
£180 for a block of three days as listed above.
Tables are provided - selling space is 6ft x 3ft with a small amount of selling space behind and at each side of the stand.
The marquee is fully heated, electricity and wifi is also included.
With free customer parking, free entry, and customers already shopping in our own Christmas department Groves is already well a known Christmas shopping destination processing over 500 transaction a day last December. So, if you are a local trader or crafts person looking to get your goods in front of hundreds of people, please register your interest by emailing or complete the booking form and return to minimarket@grovesnurseries.co.uk
To ensure that the Christmas Market is as diverse as possible we will not allow stall holders to sell products which are identical or similar to other stall holders goods during the same time period.
Groves Nurseries reserves the right to select their preferred five retailers each week from those that have applied in order to protect the Groves Festive Mini Market brand.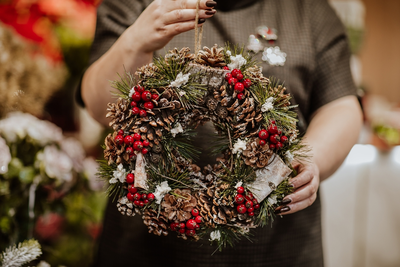 The holiday season is upon us, and there's no better way to infuse your home with festive cheer than crafting your Christmas wreath.
More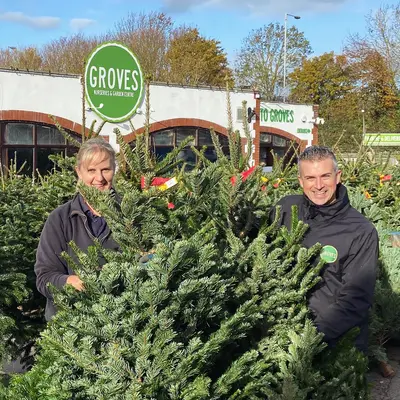 We're here to guide you through the art of choosing the ultimate Christmas tree.
More