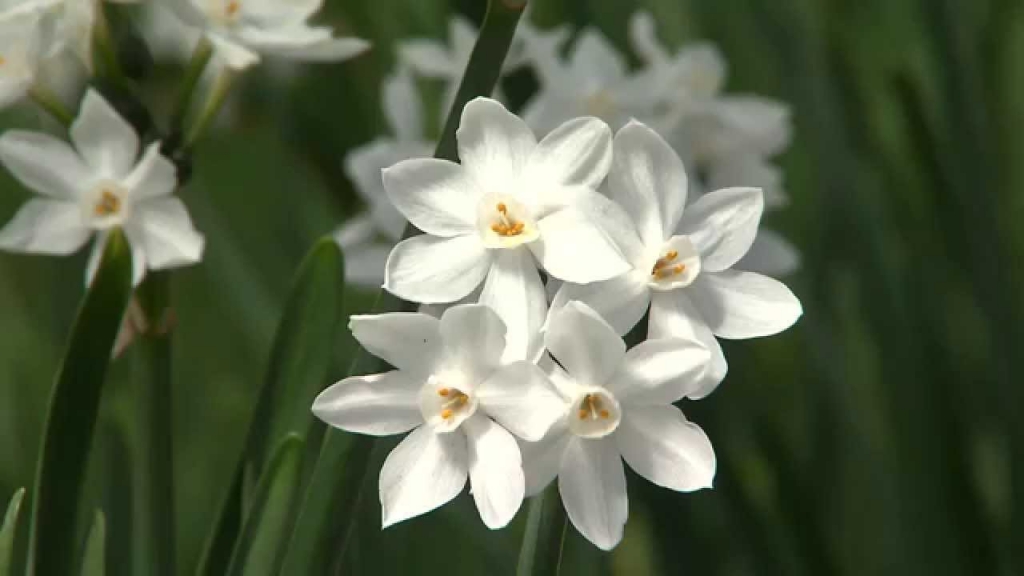 Growing paperwhites for Christmas
Paperwhites are popular indoor plants make great Christmas presents. Growing them is as easy as putting the bulbs in water and waiting. The fragrant flowers bloom within about 3 weeks of planting, for almost instant gratification.
How to Force Paper Whites
Paper whites are the original "Just Add Water" plant. While paperwhites bulbs can be planted in soil they can just as easily be grown in stones or glass chippings to make a more interesting gift.
Select a container that is 3-4" and that has no drainage holes.
Spread 2" of stones, glass or bulb fibre, along the bottom of the container.
Position your paper white bulbs, pointed end up, on top of the stone layer. Make sure you pack them in well. They not only look better in a large group; the tight fit will help keep them from toppling over.
Add another layer of stones or compost to fill in any gaps and cover the bulbs up to their shoulders. The pointed tips should still be showing.
Add water so that the level just reaches the base of the bulbs. Allowing the bottom of the bulb to sit in water will stimulate growth. Covering the entire bulb with water could cause it to rot.
The bulbs don't need light at this point and they prefer to be kept on the cool side.
Check your bulbs daily to see if they need more water.
When you see roots developing, move the container to a sunny window. The sunnier the better, but try not to let them get too warm or they'll grow leggy.
Once the plants flower, they will last longer if moved out of direct sunlight, to a cool spot with indirect light.
You can start pots of paper whites every couple of weeks, for a continuous display throughout the winter.
Although problems are rare with paper whites, one annoyance is their tendency to become top heavy and fall over. To overcome this start watering them with a 10% alcohol solution (gin or vodka work best) when the shoots reach 3" high.